By John Robert Page
Hamilton Correspondent
New seasons lead to new records, players and coaches. However, there is one thing that stays the same under the Friday night lights: The expectation to win.
All eyes were on the Hamilton Aggies as they made the trip to face off against the Red Bay Tigers on Friday Aug. 20.
An electrifying offense led the charge for the Aggies, and it resulted in a 40-24 victory for Hamilton.
HAMILTON - On a cool Friday night, two teams squared up on the gridiron. Looking to sneak their way into the playoffs, the Hamilton Aggies hosted the Fayette County Tigers. A rather dry first half turned into a wet second half, but it was not enough to deter the Aggies from taking control of the game. Two rushing touchdowns were more than enough to propel Hamilton into the playoffs with a 14-2 win against the Tigers.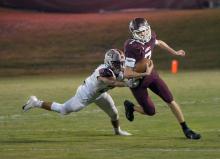 HAMILTON - The tension could be felt through the crisp autumn air as the Hamilton Aggies and Haleyville Lions took the field at Joe Sargent Stadium for the 75th edition of their notable rivalry on Friday night, Oct. 2.