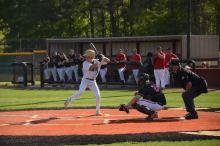 By Luke Brantley
Staff writer
WINFIELD — The Winfield Pirates' 2022 season drew to a close on Friday night, April 22 after back-to-back losses against the Elkmont Red Devils.
Elkmont batted first, and scored two runs. After shutting down the Pirates in the bottom of the first inning, the Red Devils scored one more point in the top of the second that also went unanswered.
The game entered a scoreless stalemate from the third to fifth inning, before the Red Devils scored two more points in the top of the sixth.