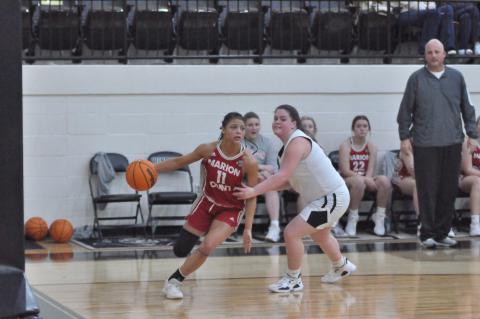 By Luke Brantley
Staff writer
WINFIELD —  The Marion County Red Raiders traveled to Winfield on Friday night, Jan. 27, and won both games.
The Lady Raiders won 61-47, and the Raiders won 69-48.
Marion County's girls were able to take off to an early lead. They were ahead of the Lady Pirates 35-15 at half time.
Toward the end of the game, the Lady Pirates started to close the gap, but the Lady Raiders held firm until the buzzer sounded on a 61-47 victory for Marion County.
Lily Robinson led Marion County in scoring with 19 points. Porshia Lipsey scored 14 points, Jasmine Wilson scored 12 points and Bekah Junkin scored 9 points.
Alecia Shack scored 3 points, and Kaylee Webb and Anna Rhea White each scored 2 points.
Marion County's boys were also able to secure an early lead, although the first half remained close. The Raiders held their lead and didn't let go, winning the game 69-48.
Joe Aldridge scored the most points for the Raiders with 18, along with 8 assists, 4 steals and 2 rebounds.
Zach Lamoureux scored 14 points and made 5 assists and 3 rebounds.
Tye Madison scored 13 points and recorded 3 rebounds and 2 steals.
Landon Morrow scored 8 points, 11 rebounds, 3 blocks and 2 steals.
Dalyce Floyd scored seven points and made 6 rebounds, Jake Smith scored 5 points and made 4 rebounds and Jameson Webb scored 4 points and made 7 rebounds.