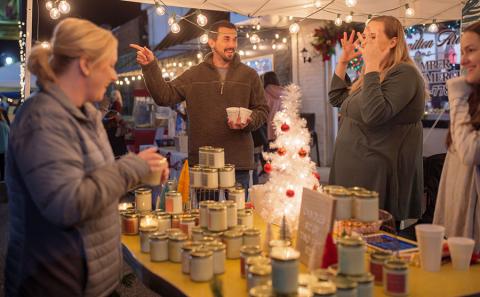 HAMILTON - More than 1,000 people flocked to the Hamilton Hometown Christmas event this year, according to event officials.
The Hamilton Area Chamber of Commerce hosted its Fifth Annual Hometown Christmas downtown shopping event on Friday and Saturday, Nov. 20-21.
Many Marion County festivals have fallen casuality to the COVID-19 pandemic, which hit the area in March. Hamilton nixed its Buttahatchee River Fall Fest, Winfield called off Mule Day and Guin canceled Mayfest. However, the Hamilton Chamber made the decision to move forward with the Christmas event in step with the Northwest Alabama Arts Council's announcement that it would be hosting the Jerry Brown Arts Festival in 2021.
Phyllis Tice of Sister-Friend's Attic in Hamilton served as the event sponsor on behalf of the Hamilton Area Chamber of Commerce.